HOME OF COTTON BOWL STADIUM AT FAIR PARK
Cotton Bowl® Stadium opened in 1930 as a 46,000-seat venue known as Fair Park Stadium.
Click Here To Request Rental Information
This historic landmark serves as the site of the annual Red River Showdown football game between the University of Texas and the University of Oklahoma and was the original home of the annual Cotton Bowl Classic from 1937 until 2009, when the game was moved to AT&T Stadium in Arlington in January 2010. From hosting the NFL Championship on January 1, 1967, to watching 23 Heisman Trophy winners take the field, Cotton Bowl® Stadium has seen its share of highlights in its 90-plus years. Today, the stadium has a capacity of more than 91,000 seats, making it one of the largest stadiums in the country.
COTTON BOWL PROHIBITED ITEMS:
Prohibited items include but are not limited to:
Outside Food and Beverage of any kind
Baby Seats
Baby Strollers
Backpacks (or any large bags)
Banners, signs
Beach balls and frisbees
Streamers
Bottles, cans or flasks
Coolers (ice chests) or containers
Weapons or any type, including but not limited to: guns, firearms, ammunition, brass knuckles, billy clubs, blackjacks, kubatons, knives or blades of any length, and self-defense sprays (mace)
Stun guns and tasers
Explosives, fireworks, smoke bombs, fuels, lighter fluids or any flammable item
Professional Photo or Video Cameras - professional equipment or cameras with long telephoto lenses exceeding 6" – except for credentialed media
Tripods, Monopods, any telescoping device including selfie sticks
Drones or other model aircraft
Flag poles
Seat cushions or chairs of any kinds
Hazardous items
Laser pointers or any other object intended to create an optical distraction
Noisemakers of any kind (air horns, whistles, vuvuzelas, etc.)
Pets (except for service animals used by guests who need assistance)
Tobacco products of any kind, including e-cigarettes
Umbrellas
Non-authorized vending or vendors
Any other item deemed inappropriate or dangerous by Fair Park/Cotton Bowl® Stadium personnel or the event promoter is in their sole discretion.
*Items are subject to change based on events.
COTTON BOWL BAG POLICY
Permitted bags allowed in Cotton Bowl® Stadium to include: Only Bags and totes that are made of clear plastic and do not exceed 12" X 6" X 12", or one-gallon clear resealable plastic storage bags, or small clutch bags or purses (which are not required to be clear) that do not exceed 4.5" X 6.5". All other bags (including but not limited to backpacks) and/or containers (including but not limited to cans, plastic bottles, thermos, coolers, and/or hard-sided bags) are prohibited inside the stadium.
Medical device bags are permitted, though they will be subject to inspection upon entrance to Cotton Bowl® Stadium.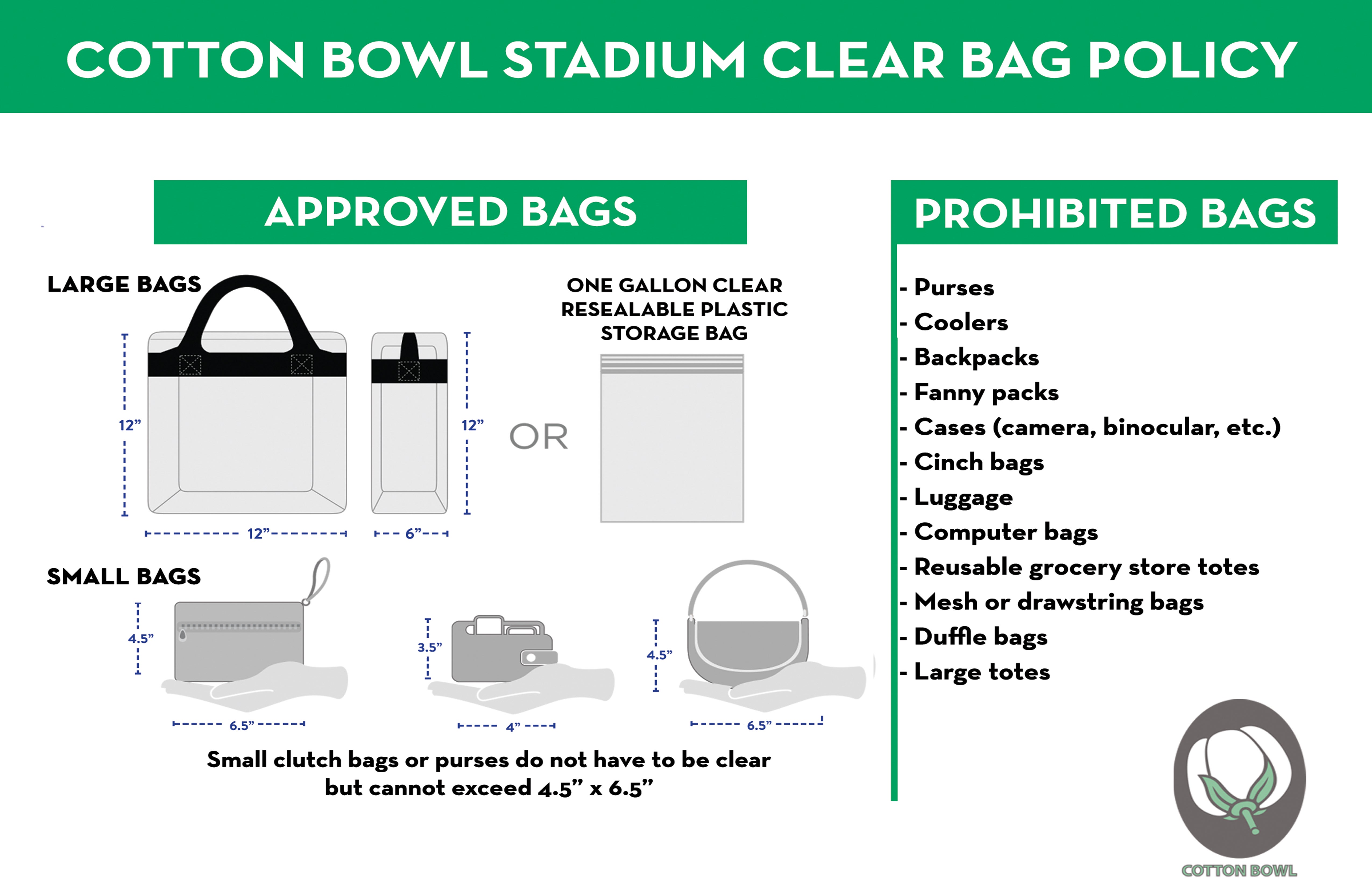 CONCESSIONS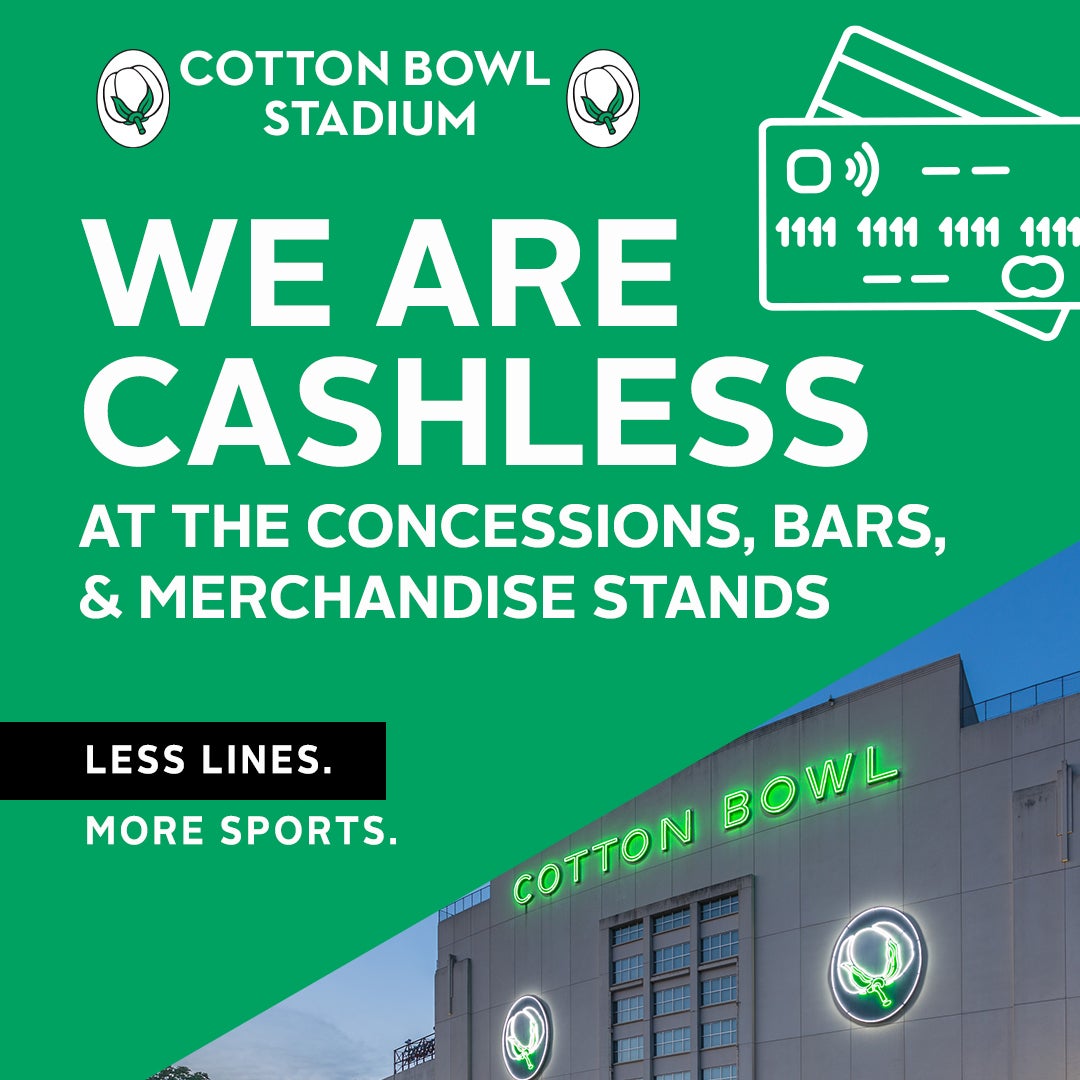 ALCOHOL POLICY
No alcohol will be sold to fans who appear intoxicated.
There will be a limit of two (2) alcoholic beverages per transaction.
Management reserves the right to cut off alcohol sales at its discretion.
Fans who do not have proof of being at least 21 years of age may be ejected for possessing alcohol.
Fans passing alcohol to minors will be ejected and subject to arrest.
We reserve the right to refuse the sale of alcohol to any fan.
PARKING
While there are several parking options at the Cotton Bowl Stadium, parking varies based on the events held at the stadium.
Please check the event's webpage for parking instructions.
Cash or credit card payment is due at the gate upon entry unless you have already pre-paid for your space.
Please click below for an interactive seating chart of Cotton Bowl Stadium during the Red River Showdown. While the seat location and view of the field will likely be similar during non-Red River Showdown events, each event is different, and certain seat locations may not be available for purchase. Please check the individual event page for more ticketing information.
COLLEGE FOOTBALL GAMES
There are two college football games scheduled on Saturdays during the 2021 State Fair of Texas held at Cotton Bowl Stadium. If you do not see the information you are looking for, visit the State Fair of Texas College Football page for details about the games or call (214)-565-9931 and press "0" for additional assistance.
GAME DATES:
State Fair Classic - October 1, 2022
Red River Showdown - October 8, 2022
HOW DO GAME TICKETS WORK?
A game ticket includes fair admission on the game day inside Cotton Bowl Stadium.
Tickets to the State Fair of Texas do not grant access to the game(s). You must purchase a separate ticket to the game(s).
BABY CARE
Baby Items
Baby bags are allowed inside Cotton Bowl Stadium.
Baby carriers are allowed inside Cotton Bowl Stadium.
Strollers are allowed on the general fairgrounds, but they are not permitted in Cotton Bowl Stadium.