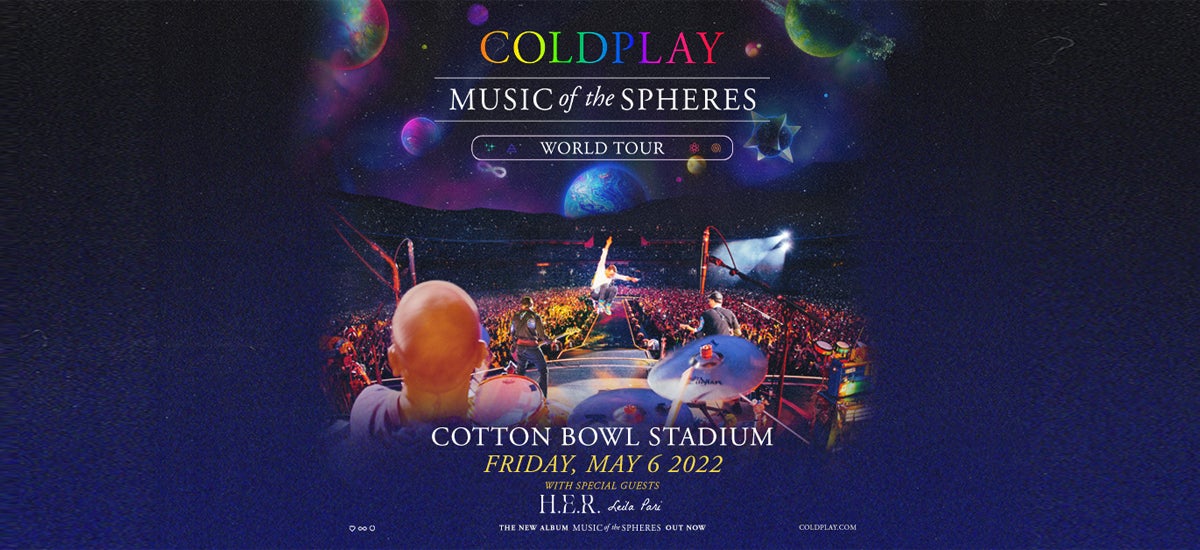 Coldplay
w/ Special Guest H.E.R. and Leila Pari
Coldplay
w/ Special Guest H.E.R. and Leila Pari
May
6
, 2022
Coldplay
w/ Special Guest H.E.R. and Leila Pari
Date

May

6

, 2022

Venue

Cotton Bowl® Stadium

Event Starts

7:00 PM

Doors Open

5:00 PM

On Sale

On Sale Now
Event Details
Coldplay kicks off the U.S. leg of The Music Of The Spheres World Tour with special guests H.E.R. and Leila Pari at the Cotton Bowl® Stadium on Friday, May 6, 2022.
Tickets are on sale now at Ticketmaster.com.
Additional Ticket Information
At this time, there are NO special COVID-19 requirements.
We are complying with all local and state guidelines regarding COVID-19 mandates and are in regular discussions with the promoter for the concert, should the show require us to take different precautions.
Advance parking is now available. Please click here. Once you purchase your parking, you will receive an email from no-reply@aceparking.com with your parking pass, and the bar code will be attached to the email. We ask you to check your junk/spam if you cannot locate the email. For all parking issues, please contact spaceparking@aceparking.com
Day-of Parking and Directions
Entrance to parking lots will be through Gates 2, 13, and 15 only
Day-of-show parking fee: $40
All forms of payment will be accepted for day-of-show parking.
*Pass is valid three hours before the event until 1 am
From Sherman-Plano-Richardson
Take U.S. 75 (North Central Expressway) South toward downtown Dallas
Continue South to 45
Take exit 283B to MLK BLVD
Follow directions to MLK BLVD
Stay left on MLK BLVD
Turn right on Robert B. Cullum BLVD
Turn left on Fitzhugh, enter Gate 13
From Austin-Waco
Take Interstate 35E North to downtown Dallas
Take exit 428B to connect to Interstate 30 East (toward Texarkana)
Take exit 48A and follow directions to Fair Park
Enter Gate 2 or 15
From Fort Worth-Abilene-Weatherford
Take Interstate 30 East to Dallas
Follow signs for Interstate 30 East toward Texarkana
After passing downtown Dallas, take exit 48A and follow directions to Fair Park
Enter Gate 2 or 15
From Denton-Lewisville-Gainesville
Take Interstate 35E South to downtown Dallas
Take exit 427E
Immediately after taking the exit, move to one of the left two lanes and enter Interstate 30, Eastbound
Take exit 48A and follow directions to Fair Park.
Enter Gate 2 or 15
From Houston-Huntsville-Corsicana
Take Interstate 45 North
Take exit 283B to MLK BLVD
Follow directions to MLK BLVD
Stay right on MLK BLVD
Turn right on Robert B. Cullum BLVD
Turn left on Fitzhugh, and enter Gate 13.
From Texarkana-Greenville-Rockwall
Take Interstate 30 West toward downtown Dallas
Take exit 49A and turn left on Grand Ave
Follow Grand Ave to Haskell Ave and turn left on Haskell Ave
Follow Haskell until you reach Gate 15
From State Highway 352
Follow westbound 352 until Fitzhugh.
Turn right on Fitzhugh, enter gate 13
Cotton Bowl® Stadium – Clear Bag Policy and Medical Device Bags
Permitted bags allowed in Cotton Bowl® Stadium include: Only Bags and totes that are made of clear plastic and do not exceed 12" X 6" X 12", or one-gallon clear resealable plastic storage bags, or small clutch bags or purses (which are not required to be clear) that do not exceed 4.5" X 6.5". All other bags (including but not limited to backpacks) and/or containers (including but not limited to cans, plastic bottles, thermos, coolers, and/or hard-sided bags) are prohibited inside the stadium.
Medical device bags are permitted, though will be subject to inspection upon entrance to Cotton Bowl® Stadium.
Reserved seating areas for patrons utilizing a wheelchair, scooter, or for those with mobility limitations are located throughout the Cotton Bowl Stadium.
Please filter your search to include accessible seating and the available seats will appear based on the number of tickets selected. The accessible seats listed on Ticketmaster are the current tickets available.
Guests 24 months of age and older are required to have a ticket for admission to most stadium events. Infants under 24 months of age may sit in a ticket holder's lap so long as they do not obstruct the view of others.
Prohibited items include but are not limited to:
Alcoholic Beverages of any kind
Baby Seats
Baby Strollers
Backpacks, Large Purses, Coolers, Fanny packs, Cases (camera, binoculars, etc.), Cinch bags, Luggage, Computer bags, Reusable grocery store totes, Mesh or drawstring bags, Duffle bags, Large totes, or any bag that does not fall under our clear bag policy
Banners, signs
Beach balls and frisbees
Bottles, cans, or flasks
Cameras - professional equipment or cameras with long telephoto lenses exceeding 6" – except for credentialed media
Coolers (ice chests) or containers
Drones or other model aircraft
Explosives, fireworks, fuels, lighter fluids, or any flammable item
Flags and flag poles
Folding chairs or stools
Food and beverages
Hazardous items, chemicals, paint thinners, and any Aerosol Cans
Laser pointers or any other object intended to create an optical distraction
Noisemakers of any kind (air horns, whistles, plastic horns, etc.)
Pets (except for service animals used by disabled guests)
Sealed packages of any kind
Seat cushions or chair backs
Stun guns and tasers
Tobacco products of any kind, including e-cigarettes
Tools including boxcutters, razor type blades, and scissors
Tripods, Monopods, any telescoping device including selfie sticks
Umbrellas
Video cameras, iPads, or tablets
Weapons or any type, including but not limited to: guns, firearms, ammunition, brass knuckles, billy clubs, blackjacks, kubatons. Knives of any length and self-defense sprays (mace)
Martial Arts weapons, nightsticks, nunchucks
Any other item deemed inappropriate or dangerous by Live Nation or Cotton Bowl® Stadium personnel in their sole discretion.
"If you see something, say something!"
In the event of an emergency, notify the closest Cotton Bowl® Stadium personnel.
Paramedics are on duty throughout the concert. If assistance is needed in the stands, please contact the nearest usher or emergency medical personnel.
First Aid will be located at Gates A, D, G
In the event of an emergency please follow in-stadium instructions heard over the loudspeaker to the nearest exit in an orderly and calm manner to seek shelter in a nearby campus building. Please be prepared to use an alternative exit route if necessary, as your usual route of exit may not be available during an emergency.
No smoking is permissible anywhere inside the Cotton Bowl® Stadium.
Alcohol policies are listed below:
No alcohol will be sold to fans who appear intoxicated.
There will be a limit of two (2) alcoholic beverages per transaction.
Management reserves the right to cut off alcohol sales at its discretion.
Fans who do not have proof of being at least 21 years of age may be ejected for possessing alcohol.
Fans passing alcohol to minors will be ejected and subject to arrest.
We reserve the right to refuse the sale of alcohol to any fan.
Outside alcoholic beverages may not be brought beyond the security screening. Any attempt to bring outside alcoholic beverages into the Cotton Bowl® Stadium will be considered a violation of the Live Nation Code of Conduct and may result in the fan being ejected, arrested or tickets being revoked.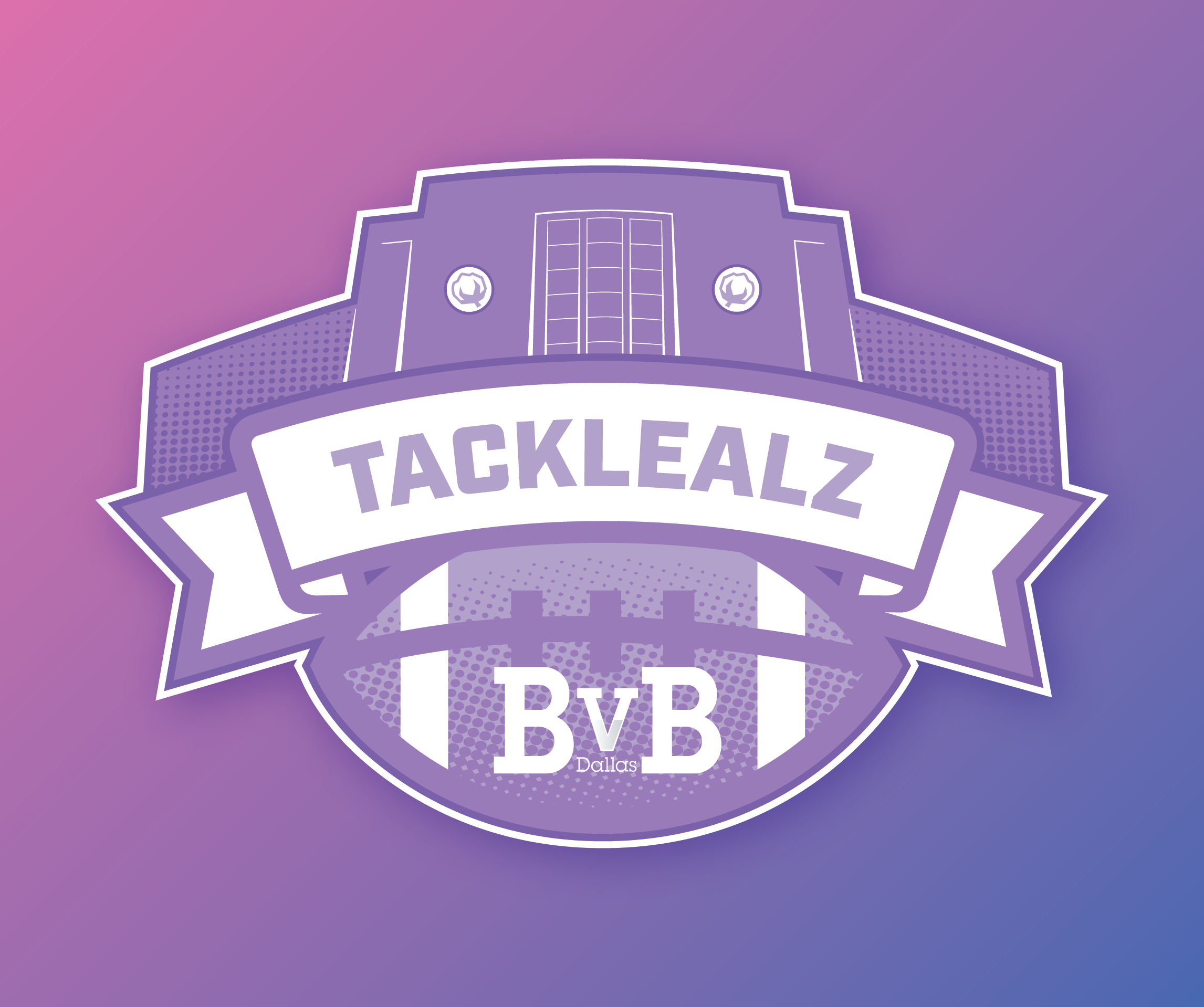 Cotton Bowl® Stadium
Event Starts
7:00 PM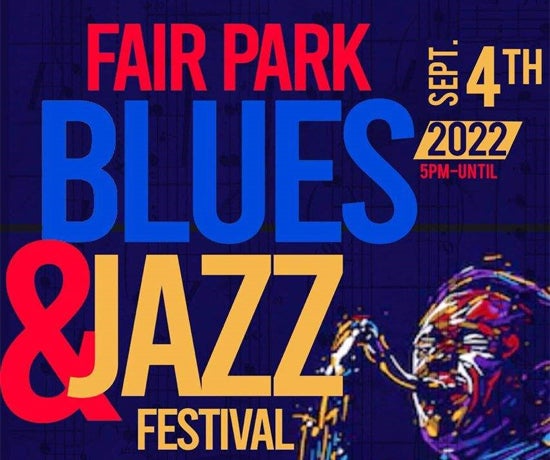 African American Museum
Event Starts
5:00 PM