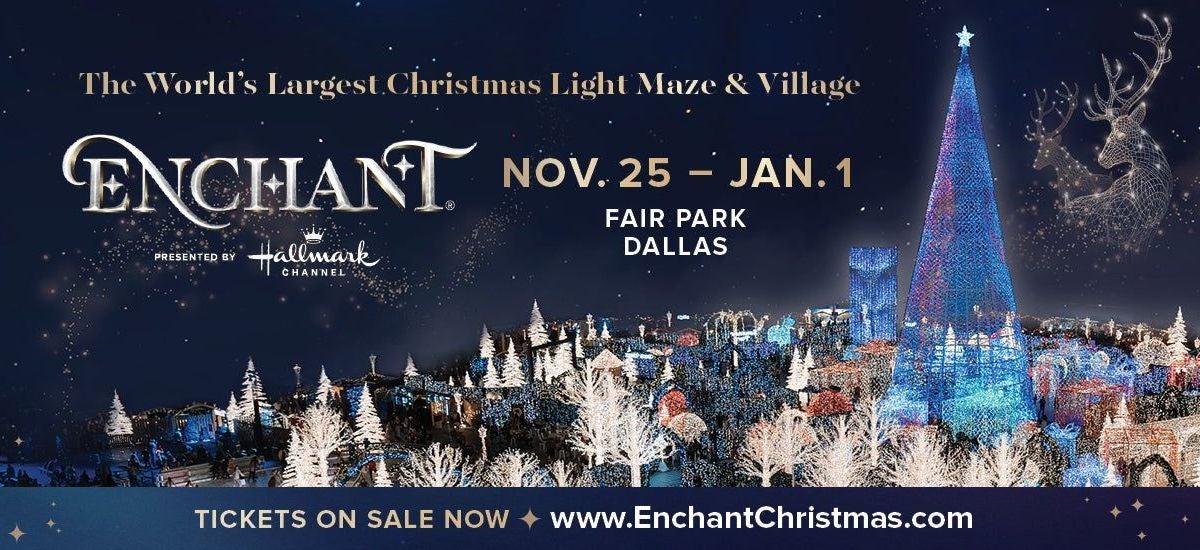 Enchant
Presented by Hallmark Channel
Enchant
Presented by Hallmark Channel
Nov 25, 2022 – Jan 1, 2023
Enchant
Presented by Hallmark Channel
Date

Nov 25, 2022 – Jan 1, 2023

Venue

Fair Park

On Sale

On Sale Now
Event Details
Enchant, presented by Hallmark Channel, is the world's largest holiday-themed light event, and it's bringing back the holiday spirit to Fair Park Dallas.
Featuring an immersive walk-thru light maze created with over 4 million sparkling lights, Enchant also includes an impressive 100-foot-tall holiday tree, a unique ice-skating trail, live entertainment, Santa visits, and a holiday shopping marketplace with crafts, gifts, and culinary treats including festive holiday beverages and cocktails.
Make plans to bring family, friends, and co-workers to Enchant for the most memorable, fun, and heartwarming evening this Christmas season.
A world of Christmas wonder awaits!
Additional Ticket Information
General Admission:
Tickets Start at $34 for Adults and $20 for Child
Add-Ons:
Customize your visit to Enchant by choosing to add on Ice Skating, or upgrading to our VIP Access ticket option. Skating has limited capacity, and VIP options must be purchased in advance.
Ice Skating - $17 per person
VIP Pass - $25 Adult and $15 Child
VIP Elf Guide - $250 per party
Refunds and Cancellations:
Enchant Christmas will not grant full or partial ticket or add-on refunds at any time as stated in the Enchant Christmas Terms and Conditions. Please review your ticket purchase carefully and ensure you are selecting the correct date, time and city when you are booking your reservation.
This policy applies to all Box Office and online ticket purchases
Please note: should local weather conditions require an event cancellation or delay, we will have a re-accommodation policy in place. You will be notified via email or text message of our event cancellation and the process for re-booking your new event day.
Dates and Hours
Nov 25- Nov 27
Friday - 5:30 p.m. - 11:30 p.m.
Saturday - 4:30 p.m. - 11:30 p.m.
Sunday - 4:30 p.m. - 11:30 p.m.
Nov 30 - Dec 11
Wednesday - 5:30 p.m. - 10:30 p.m.
Thursday - 5:30 p.m. - 10:30 p.m.
Friday - 5:30 p.m. - 11:30 p.m.
Saturday - 4:30 p.m. - 11:30 p.m.
Sunday - 4:30 p.m. - 10:30 p.m.
Dec 14 - Dec 25
Monday - 5:30 p.m. - 10:30 p.m.
Tuesday - 5:30 p.m. - 10:30 p.m.
Wednesday - 5:30 p.m. - 10:30 p.m.
Thursday - 5:30 p.m. - 11:30 p.m.
Friday - 5:30 p.m. - 11:30 p.m.
Saturday - 5:30 p.m. - 11:30 p.m.
Sunday - 5:30 p.m. - 11:30 p.m.
Dec 26 - Jan 1
Monday - 5:30 p.m. - 10:30 p.m.
Tuesday - 5:30 p.m. - 10:30 p.m.
Wednesday - 5:30 p.m. - 10:30 p.m.
Thursday - 5:30 p.m. - 10:30 p.m.
Friday - 5:30 p.m. - 10:30 p.m.
Saturday - 5:30 p.m. - 9:30 p.m.
Sunday - 5:30 p.m. - 10:30 p.m.
Enchant is returning with an all-new holiday theme and event location inside Fair Park to enhance your Christmas spirit.
Location Address: 1438 Coliseum Dallas, TX 75210
ADVANCE PARKING: Pre-paid parking is available and encouraged when you purchase your Enchant ticket.
PARKING LOTS: 10A/B & 11 A/B – The parking lot entrances are located at Gate 2 (Haskell and Parry Ave) and Gate 13 (Lagow St. at the corner of S. Fitzhugh Ave.)

VALET PARKING

: Valet parking is available on a first-come, first-served for an extra charge. Please see the attendant when you arrive onsite for directions.
The best way to access Enchant via DART is to take the MLK, Jr. Station. Please follow these directions:
Take the Green Line to MLK, Jr. Station
From the station, turn left onto MLK, Jr. Drive and enter Fair Park at Gate 6 (roughly half a mile walk)
Turn right onto 2nd Avenue, and the security team can direct you to a shuttle stop located in parking Lot 8; the shuttle will drop you closer to the event entry.
If you prefer to walk to the Enchant entry, the walk is approximately one mile from the MLK, Jr. station.
Outside Food and Beverage of any kind

Backpacks (or any large bags)

Banners, signs

Beach balls and frisbees

Streamers

Bottles, cans or flasks

Coolers (ice chests) or containers

Weapons of any type, including but not limited to: guns, firearms, ammunition, brass knuckles, billy clubs, blackjacks, kubatons, knives or blades of any length, and self-defense sprays (mace)

Stun guns and tasers

Explosives, fireworks, smoke bombs, fuels, lighter fluids or any flammable item

Professional Photo or Video Cameras - professional equipment or cameras with long telephoto lenses exceeding 6" – except for credentialed media

Tripods, Monopods, any telescoping device including selfie sticks

Drones or other model aircraft

Flag poles

Seat cushions or chairs of any kinds

Hazardous items

Laser pointers or any other object intended to create an optical distraction

Noisemakers of any kind (air horn, whistles, vuvuzelas, etc.)

Pets (except for service animals used by guests who need assistance)

Tobacco products of any kind, including e-cigarettes

Non authorized vending or vendors

Any other item deemed inappropriate or dangerous by Fair Park/Cotton Bowl® Stadium personnel or the event promoter is in their sole discretion.
Permitted bags include: Only Bags and totes that are made of clear plastic and do not exceed 12" X 6" X 12", or one-gallon clear resealable plastic storage bags, or small clutch bags or purses (which are not required to be clear) that do not exceed 4.5" X 6.5". All other bags and/or containers (including but not limited to cans, plastic bottles, thermos, coolers, and/or hard-sided bags) are prohibited.
Medical device bags and diaper bags are permitted, though will be subject to inspection upon entrance.
Pets are not allowed. However, Enchant welcomes trained service dogs as defined under Titles II and III of the Americans with Disabilities Act (ADA)--no other animals are permitted within the event. Service animals must be under the effective control of the handler at all times, and all vaccinations for rabies and other common diseases must be up to date.
If the dog is found not to be housebroken or not under control by the handler, the service dog and handler will be asked to leave the event without a refund.
We will not be hosting the Paws N Claus event this season.
Families with small children in strollers or wagons are always welcome into the Enchant Christmas maze.
Scooters and Wheelchairs Rent
Enchant will not have wheelchairs or scooters available for rent this year.
Outside Food and Beverages
During Enchant events, outside food and drinks are not permitted excluding baby food or milk in a clear container and required baby water for formula. All bags are subject to search, and if outside food or drink is found, they will not be allowed in.
The event will take place rain or shine. Enchant will notify guests if event dates, hours, and activities change due to inclement weather.
The Ice Skating rink will be monitored closely during any variations in weather conditions that could cause any safety concerns. Ice Skating will stay open as long as it is deemed safe to skate.
If the ice becomes unsafe at any time, Enchant staff will decide to close the ice until it is safe to return.
Group Events and Private Parties
Click the link below to submit a request for Group Events or Private Parties.
Click the link below for Vendor information.
KIDS FREE Wednesdays
On Wednesdays throughout the season, you receive one FREE General Admission child ticket with each paid Adult admission ticket.