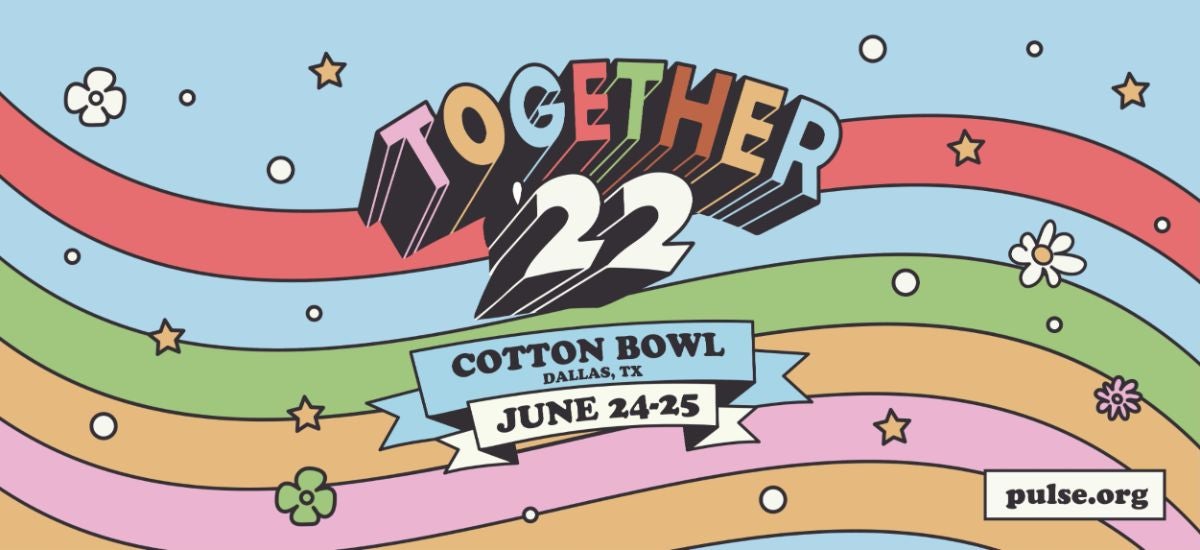 TOGETHER '22
TOGETHER '22
Date

June

24

-

25

, 2022

Venue

Cotton Bowl® Stadium

On Sale

On Sale Now
Event Details
TOGETHER '22 will take place at the Cotton Bowl Stadium in Dallas, Texas, from June 24- 25, 2022.
TOGETHER'22 is a catalytic stadium gathering on the 50th anniversary of Explo '72. The event will empower the next generation of Christians to Make Jesus Known.
The event will feature some of the best artists, speakers, and worshippers. All ages, races, and theological backgrounds are welcome to gather and worship the breadth and beauty of the body of Christ. TOGETHER '22 focuses on uniting, equipping, and unleashing a generation to make Jesus known.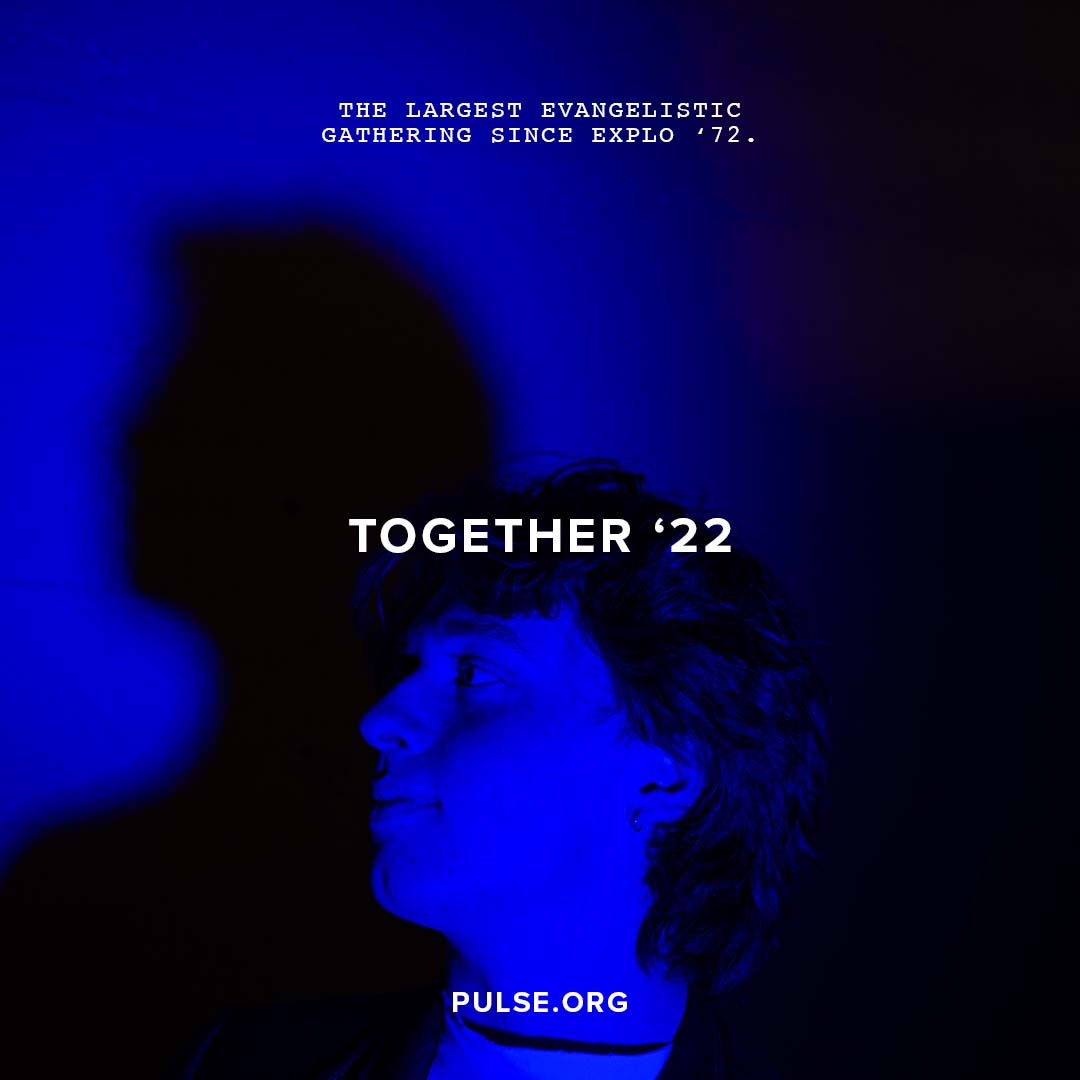 Join the movement when you register for FREE at https://pulse.org/together22/
Additional Ticket Information
Box Office Hours:
Friday: 3:30 PM - 8:00 PM CDT
Saturday: 7:30 PM - 6:00 PM CDT
How do I get tickets to TOGETHER '22?
Though the event is free, ticketing through Fair Park/Cotton Bowl Stadium is required for admission to TOGETHER '22. It will take you 2-3 minutes to complete this process. Here are the steps:
Step One:
Click "Find Tickets"
Add the number of tickets you'd like
Step Two:
Click "Add to cart"
Click "Checkout"
Step Three:
Click "Create account"
Enter Personal Info and create a password
Step Four:
You'll then receive your ticket via your phone or email, depending on what you selected!
Upon entry, you will go through security to scan your ticket and receive one (1) general admission wristband to access the event.
Your wristband will receive as your access for entry each day.
If you lose or discard your admission wristband, please visit the security checkpoint to show your digital or physical ticket to receive a new wristband. (No ticket, No wristband replacement).
The DART station provides easy access to/into the park. Fair Park visitors can ride DART Rail Green Line to 2 stations:
Fair Park Station is located on Parry Ave. at the entrance to the fairgrounds.
MLK, Jr. Station is located south of R.B. Cullum Blvd. and is convenient to the MLK fairground entrance (Gate 6).
Please be aware that DART is not available from the airports.
Uber & Lyft
Rideshare pick-up/drop-off is located at any gate entrance. We recommend drop-off at Gate 5 or the DART Gate.
CLICK HERE FOR ADDITIONAL TRANSPORTATION TO TOGETHER '22
Advance parking is $20. Purchase by clicking the button below.
Day-of-event parking is $25.
Event parking lots are 2, 5, 6, and 15. Please click here for our parking map.
Oversized vehicles and Bus parking are $40; park in Lot 15.
Main ADA parking is available at Lot 12a. There is limited ADA parking available at event parking lots 2, 5, and 6.
Parking is not included in the ticket. Cash and all major credit cards are accepted.
CLEAR BAG POLICY
Security protocols at Fair Park include walk-through metal detectors and a clear bag policy. Permitted bags allowed in Cotton Bowl® Stadium to include: Only Bags and totes that are made of clear plastic and do not exceed 12" X 6" X 12", or one-gallon clear resealable plastic storage bags, or small clutch bags or purses (which are not required to be clear) that do not exceed 4.5" X 6.5".
All other bags and/or containers (including but not limited to cans, plastic bottles, thermos, coolers, and/or hard-sided bags) are prohibited inside the stadium. Medical devices and diaper bags are permitted, though will be subject to inspection upon entrance to Cotton Bowl® Stadium.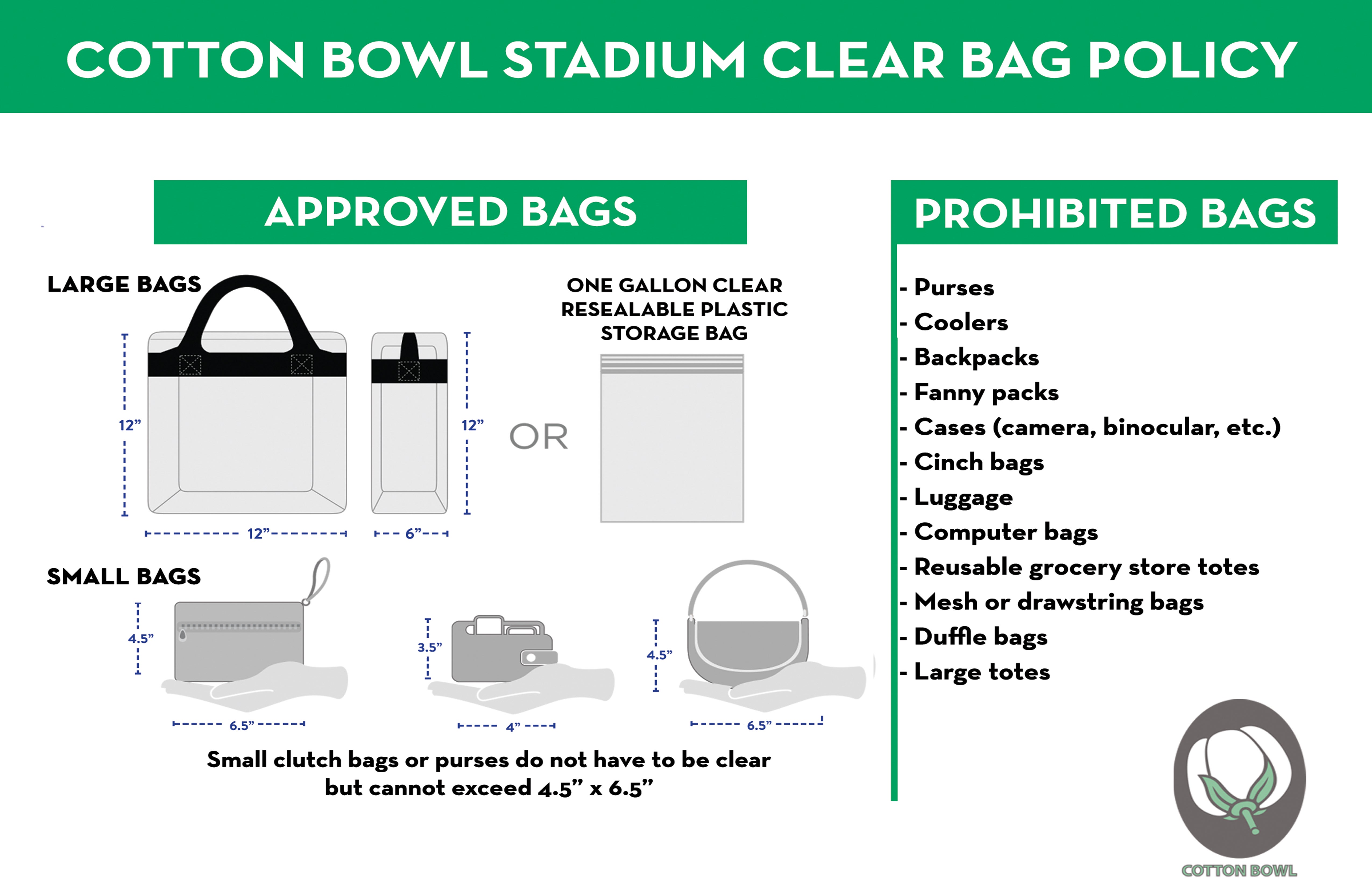 This weekend, we are expecting higher than usual temperatures. To plan accordingly, please check out some of the items you can bring to TOGETHER '22:
Clothing for hot weather.
Empty reusable water bottles 24 oz or less OR purchase a larger limited-edition TOGETHER '22 water bottle! Plastic disposable water bottles will not be allowed. Water stations will be available throughout the venue to fill your bottles. Concessions will also be open throughout the event.
Sunscreen (Spray sunscreen will NOT be permitted. You can bring cream, stick or other non-aerosol sunscreens)
Visor or bucket hat
Sunglasses
A towel or cloth to cover the seat as it could be hot from the sun. Cotton Bowl Stadium does not sell or rent seat covers/chair backs.
Please arrive early to allow for an extra screening time. For a list of prohibited items, please see below:
Outside Food and Beverage of any kind
Baby Seats
Baby Strollers
Backpacks (or any large bags)
Banners, signs
Beach balls and frisbees
Streamers
Disposable/one-time-use plastic water bottles. Bottles must be empty upon entry.
No soda, cans, flasks, alcohol, flavored water, or sports drinks
Coolers (ice chests) or containers
Weapons of any type, including but not limited to: guns, firearms, ammunition, brass knuckles, billy clubs, blackjacks, kubatons, knives or blades of any length, and self-defense sprays (mace)
Stun guns and tasers
Explosives, fireworks, smoke bombs, fuels, lighter fluids, or any flammable item
Aerosol Cans/Sprays
Professional Photo or Video Cameras - professional equipment or cameras with long telephoto lenses exceeding 6" – except for credentialed media
Tripods, Monopods, any telescoping device including selfie sticks
Drones or other model aircraft
Flag poles
Seat cushions or chairs of any kinds
Hazardous items
Laser pointers or any other object intended to create an optical distraction
Noisemakers of any kind (air horns, whistles, vuvuzelas, etc.)
Pets (except for service animals used by guests who need assistance)
Tobacco products of any kind, including e-cigarettes
Umbrellas (any size)
Non-authorized vending or vendors
Any other item deemed inappropriate or dangerous by Cotton Bowl® Stadium personnel or the event promoter is at their sole discretion.
First Aid is located at Gates G and A in the Main Concourse within the stadium.
Hydration stations will be available and located throughout Cotton Bowl Stadium
ADA Parking is located in Lot 12A (map)
TOGETHER '22 welcomes people of all abilities. Interpreters will be available for all main sessions. If you require ASL services, please head to the ADA tent located outside of Cotton Bowl Stadium near Gate J. Guests will be escorted by security to the ASL section. Please note that it is a limited quantity and is first-come, first-served.
If you require wheelchair assistance, please head to the ADA tent located outside of Cotton Bowl Stadium near Gate J. Guests will be escorted by security to the ADA sections (Section 25 and 26). Please note that it is a limited quantity and is first-come, first-served.
Elevators are located at Gates C and J for those who need assistance getting to the concourse of Cotton Bowl Stadium.