Since its inception in 1886, the State Fair of Texas® has celebrated all things Texan by promoting agriculture, education, and community involvement through quality entertainment in a family-friendly environment.
The State Fair of Texas is a 501(c)(3) nonprofit organization with proceeds helping to preserve and improve our home, Fair Park; underwrite museums, community initiatives, and scholarship programs to support students throughout the Lone Star State pursuing higher education; and help improve State Fair operations – to put on the next great State Fair of Texas. At 24 consecutive days, the State Fair of Texas is the longest-running state fair in the nation, as well as one of the largest. Through its rich and lengthy history, it remains evident that the State Fair of Texas serves not only as an annual celebration but as a unique destination that brings people together from all walks of life to have fun and create lifelong memories.
Mailing Address:
PO Box 150009, Dallas, TX 75315
Physical Address:
3921 Martin Luther King Jr Blvd, Dallas, TX 75210
Hours:
The State Fair of Texas runs in the fall of each year. Please check www.bigtex.com for dates.
The State Fair of Texas Administration Building is open weekdays year-round, except holidays, from 8:30 a.m. - 5 p.m.
Phone: 469-945-3247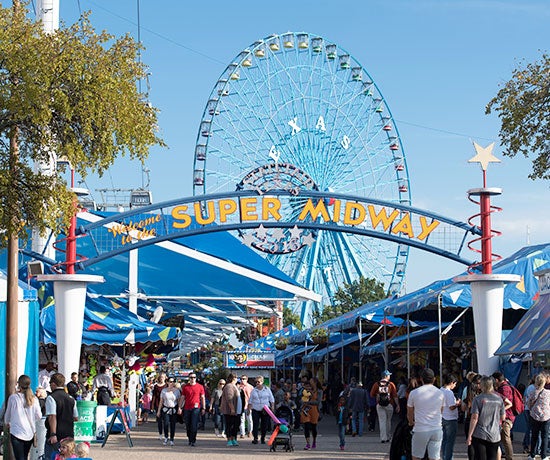 To buy tickets, plan your visit, or learn more about the State Fair of Texas, please visit BigTex.com.
More Info